The Magyar Venus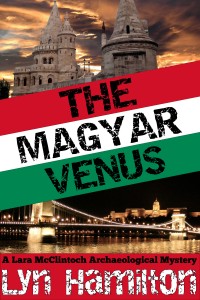 Some roommates from college draw Lara McClintoch into an encounter with an old lover and the mystery surrounding a twenty-five thousand year-old statue.
To find if the antiquity is real or fake, Lara traces the path of a nineteenth-century adventurer who is said to have found the statue in Hungary. Both her old lover and her old college friends follow her to Budapest.
Lara learns that digging up the past can be dangerous, whether it is someone else's or your own in this Arthur Ellis-nominated crime novel.
Praise for The Magyar Venus:
"The ninth in Hamilton's appealing series takes chatty, always upbeat antiques dealer Lara McClintoch to Hungary to research the provenance of the Venus, an ancient bust carved from mammoth ivory.  Lara's tireless quest gives an absorbing view of post-Communist Budapest and its surrounding prehistoric caves full of archaeological treasures.  A lively blend of romance, humor and occasional tragedy."  –Publishers Weekly
"She's three inches tall and over 25,000 years old.  Or is she?  That's the question Lara McClintoch must answer, as a suspicious suicide, a rekindled flame, and the clues and lies given to her by six old college chums lead her to the fascinating city of Budapest.  Hamilton has executed a thrilling mystery full of flawed but lively characters, each with his/her own agenda…..I highly recommend this book."  –The Best Reviews
"It's always a pleasure to follow Hamilton and Lara around the Globe."  Deadly Pleasures
"This is the eighth novel in the series featuring antiques expert Lara McClintoch and to say it's as good as the rest is no insult.  She gives us a puzzle, a recurring heroine, an interesting setting, a fabulous antique object, some history and some travel – and a whiff of forbidden romance."    Globe and Mail
"When it comes to archaeological mystery, there are few writers in the genre who can hold a candle to Lyn Hamilton.  The Toronto author's Lara McClintoch series, authoritatively written, yet appealingly human and funny, is gathering a growing fan base in North America."  Ottawa Citizen
Purchase The Magyar Venus from: