The Orkney Scroll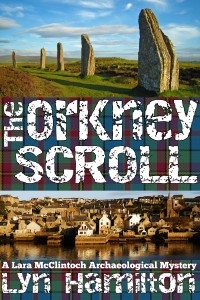 Lara McClintoch's professional pride is hurt when a writing cabinet she thought was a genuine antique turns out to be a fake.
When the antique dealer who sold it for a million dollars is murdered and the money goes missing, Lara follows the forgery trail to Orkney, islands off the northeast coast of Scotland ruled long ago by Viking earls.
Amid the peaceful landscape and friendly inhabitants, Lara looks for vindication and finds danger instead.
Praise for The Orkney Scroll:
"Hamilton makes the islands of Orkney so beguiling they ought to be listed as a top-ten travel destination." –Kirkus Reviews
"Hamilton is a funny writer. Lara's culture shock in super-friendly Orkney is especially humorous." –Publishers Weekly
"Lyn Hamilton is emerging as one of Canada's most successful crime writers. Her series of archeological mysteries featuring Toronto antiques dealer Lara McClintoch has found legions of devoted fans. Her secret? Her ability to take us right to the centre of places that pique the imagination, and then serve up a nice puzzle plot with a dash of arcana for seasoning." –The Globe and Mail
"This is the most accomplished and clever book yet from a writer who is quickly becoming Canada's queen of crime fiction." –Calgary Herald
Purchase The Orkney Scroll from: