Welcome to lynhamiltonmysteries.com
Lyn Hamilton wrote 11 archeological crime novels featuring Lara McClintoch, a Canadian antiques dealer who spends her international shopping trips getting into trouble, searching for clues, and unmasking murderers.
Lara is adventurous, smart, funny and, of course, polite.
Each book is set in a different country: Mexico, Malta, Peru, Ireland, Tunisia, Italy, Thailand, Hungary, Easter Island, Orkney and China.
Each book links the past and the present in an unusual way.
The mysteries were publish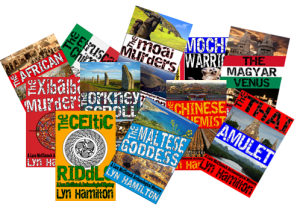 ed from 1997 to 2007 by Berkley Prime Crime, New York.
The entire series is now available in English as ebooks as part of Bev Editions, an ebook publishing initiative of the Beverley Slopen Literary Agency.
This website provides information about the author, her writing and research, and her series of crime novels.