The African Quest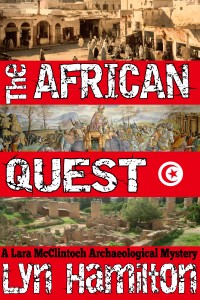 It looked like an ordinary group of tourists – a mix of easy-going and critical, quiet and talkative, enthusiastic and bored. But antiques dealer Lara McClintoch is leading this tour through the souks, mosques and ruins of Tunisia so you know it is going to get complicated.
One member of the group is found dead in the pool and another dies in a hotel fire. Who are these people?
The police think accident; Lara thinks murder. Then there's trouble in the harbor as two ships compete for marine treasure. Lara's quest for justice climaxes in a harrowing race across the desert.
Praise for The African Quest:
"The exotic world of Northern Africa comes vividly alive… a strong amateur sleuth tale" –Midwest Book Review
"The theme of murder in a group is delightfully intriguing… There are plenty of clues and suspects to keep you turning the pages." –The Romantic Times
Purchase The African Quest from: