About the Author
Lyn Hamilton wrote 11 archeological mystery novels featuring a feisty antiques dealer named Lara McClintoch. Lyn didn't start her career as a crime novelist until she was in her 50s. However, once started, she was prolific, with a new Lara book coming out every year from 1997 until 2007.
Lyn was born, attended school, lived and worked in Toronto, Canada. While studying cultural and physical anthropology (as well as English literature) at the University of Toronto, she became fascinated by ancient civilizations.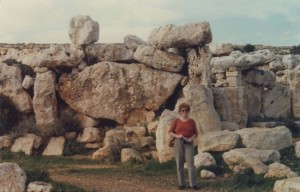 She always said she didn't have the patience to be an archeologist, but she pursued a lifelong interest in the subject, taking courses and visiting heritage sites around the world.
The learning and travelling went on long before Lyn started writing books. It was what she did on her own time for fun. But once she started thinking about writing a mystery novel, linking it to archeology seemed like a no-brainer.
Her "day" jobs included public relations and communications for corporations, not-for-profit organizations and governments. She was especially proud of an award-winning public service campaign on domestic violence.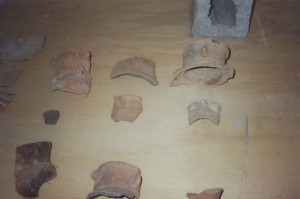 The job that was the best "fit" with her love of antiquities was being director for six years of the Ontario government's Cultural Programs Branch, which was responsible for licensing all archeology in the province, as well as for museum and heritage conservation support programs.
That role gave her some great contacts in the archeology and museum communities, professionals who welcomed her to their digs and their labs, and helped her understand some of the more esoteric aspects of digging up the past.
Lyn was passionate about preserving physical and cultural heritage both for its intrinsic value and for what it can teach us about ourselves. It is a theme that runs through her books.
In The Moche Warrior, Lara's third adventure abroad, Lyn has one of the characters talk to local villagers in Peru about why studying the tombs of their an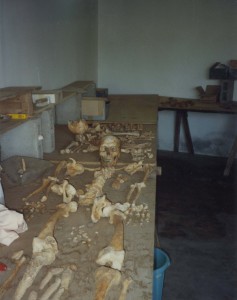 cestors is important:
"These people did what you do.  They fished the waters off these coasts, they hunted deer, they engaged in athletic events, they had toothaches, they made war.  How do we know these things? We know this because we are able to study the remarkable works of art they left behind…
Your children study the stories of the conquistadores, of Spain, Greece and Rome. Should they not learn as much – no, should they not learn more of the great civilizations from which they are descended?"
Lyn and Lara
Lyn was often asked about similarities between herself and her heroine. With typical self-deprecation, she said Lara was younger, smarter, braver and better-looking.  She also allowed as how Lara was more impulsive, which got her into trouble.
Lyn gave her heroine something she had considered doing herself – opening a shop in a trendy part of Toronto to sell rare and beautiful objects gathered from around the world. Lyn decided she liked the world travel part, but was not so keen on being a retailer.
For Lara, the shop in Yorkville provides a base from which to begin her sleuthing abroad.
In The Maltese Goddess, a rich customer sends Lara off to Malta to set up his new household there. The nearly empty house is creepy, but it gets worse when there is a body stuffed in a piece of furniture. In The Chinese Alchemist, Lara is dispatched to New York and Beijing to acquire a valuable silver box at auction. When it is stolen from under her nose at the Chinese auction house, the chase is on.
Lara is not your normal traveller. She discovers murder victims all over the place – from towering cathedrals to underground caves, from windswept cliffsides to spooky gravesites, from desert landscapes to elegant living rooms.
Finding, among other things, good places to put corpses required that Lyn get off the beaten track in her own travels. That sometimes led to some scenes that were transferred to the page. An incident in which a pack of horses comes thundering across a field towards Lara and her best friend Moira in The Moai Murders scared the heck out of the author and her travel companion visiting Easter Island in 2004.
Lyn went on a few guided tours, starting when she was a teenager. Those experiences provided the basis for the diverse bunch of tourists she wrote about in Tunisia in The African Quest. The characters are composites, but anyone who has done the tour thing will recognize the types (the chronic complainer, the one who is always late, the constant talker).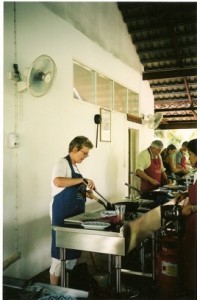 Lyn visited all the places featured in her books, some of them several times. She loved learning how to cook the cuisine of the countries she visited. She took a cooking course with friends in Thailand for The Thai Amulet. She and other friends rented a house in Tuscany to do their own Italian cooking while scouring the countryside for The Etruscan Chimera.
Like Lyn, Lara has a group of loyal friends in Toronto who support her through thick and thin. The characters, like Lara's acerbic ex-husband Clive (no, Lyn did not have an ex), are part of the charm of the books. But home is not always a refuge; sometimes the crime spree starts before Lara gets on a plane. There is an axe murder in a Toronto antique shop in The Orkney Scroll and a woman Lara knew from college apparently throws herself off a bridge in The Magyar Venus.
If it sounds like there is blood spilled in these books, there is. But there is also a lot of humour. A certain kind of wry humour, as in:
I may not have known what that self-serving gibberish in Trevor's letter was all about, but I was reasonably sure that having an axe buried in what was left of his skull was not what he'd meant by head start. (The Orkney Scroll)
The Old and the Sort-of New
It probably goes without saying, but the books are a product of their times. Tunisia in The African Quest, first published in 2001, is Tunisia before the Arab Spring and all the turmoil and change that accompanied it.
In some of the books, Lara calls home to get her friend Alex to look up stuff on the Internet. No smartphone!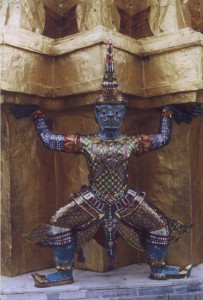 What is dated but timeless is the old story, as each book calls upon the past in an unusual way. The Thailand of The Thai Amulet (2003) will not be the same place today, but that does not matter to the story of the kings of Ayutthaya and the conniving and killing that goes on among the competitors for the throne and their concubines in the 1500s.
There is often a parallel narrative from the ancient world that provides clues to what is going on in the present. Sometimes, the past plays a role in the current mystery. In The Celtic Riddle, for example, snippets from an ancient poem lead Lara and Alex on a treasure hunt set in motion by a dead man.
Part of what is intriguing in these crime novels is how the old story and the new come together.
And there is nothing time-sensitive about character and human motivation. Lara often struggles to make the right decisions. Her version of justice is not always conventional. Should a murderer ever get away with it?  Is it ever right to give up a secret you promised to kee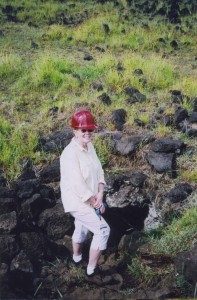 p? What do you do when the authorities look guiltier than the accused?
She also struggles with relationships, and who doesn't? In the first book, The Xibalba Murders, Lara is smitten with one man and suspicious of another. But then she starts wondering whether the first guy, who hobnobs with the wealthy elite in Merida, is really her type… while the other guy seems to consort with outlaws.
In subsequent books, she meets a charming cop, who sees the world too much in black and white for Lara's taste. But on the fundamentals, they are on the same page. He can cook too.  By the last book, they are a team.
Recognition
The Bella Pomer Agency in Toronto took Lyn's first manuscript to New York and brought home an offer to publish from Berkley Prime Crime. All eleven Lara McClintoch books were published in print form by Berkley. The books have been translated into several different languages.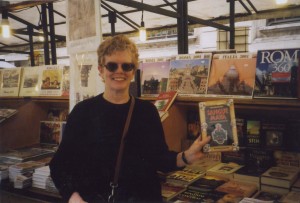 The first one, The Xibalba Murders (Xibalba refers to the underworld where the Mayan lords of death reside) was nominated for an Arthur Ellis Award for best first crime novel in Canada.
The eighth, The Magyar Venus, was also nominated for an Ellis award, this time for best crime novel.  The Celtic Riddle, set in Ireland, formed the basis for a 2003 "Murder She Wrote" television movie starring Angela Lansbury.
Lyn was active in reaching out to readers, attending mystery conferences, giving readings, and visiting mystery bookshops all over North America. She also believed in helping others get started in the writing business and mentoring new writers.
She served as a writer-in-residence at the North York Central Library in Toronto in 2003 and at the Kitchener Public Library in southwestern Ontario in 2004.  She gave courses and seminars, including at the School of Continuing Studies at the University of Toronto in 2007.
By the time her 10th book was published, Lyn was identified as "one of Canada's most successful crime writers" with "legions of devoted fans" (The Globe and Mail, from the review of The Orkney Scroll).
There was only one more Lara book after Orkney, set in China. While working on The Chinese Alchemist, Lyn was diagnosed with one of those relatively rare cancers that don't get much attention: cancer of the bile duct. Prior to discovery of a tumour, she had no symptoms. She continued writing, teaching, mentoring new writers, and meeting her readers as long as she could. She did not talk publicly about her illness.  She died in 2009.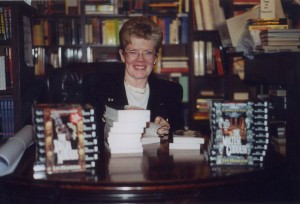 Malice Domestic, a mystery fan convention held annually in the Washington, D.C. area, paid tribute to Lyn in 2011 in its "Malice Remembers" segment.  In 2012, the Crime Writers of Canada gave her a posthumous award: the Derrick Murdoch Award for contribution to the writers' community.
So that Lara can live on and find new readers to follow her adventures, the entire Lara series was re-issued in ebook form in English in 2013-14 as part of Bev Editions, the ebook publishing initiative of the Beverley Slopen Literary Agency, of Toronto.