The Maltese Goddess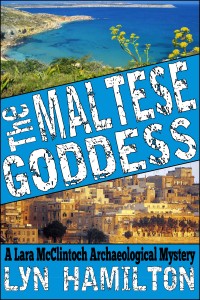 Antiques dealer Lara McClintoch expects a working holiday on the Mediterranean island of Malta will be a nice break from the Canadian winter–until she discovers a dead body stuffed inside an antique chest and another impaled on an ancient knight's sword.
Lara joins forces with an RCMP officer assigned to her case to solve the murders and foil an assassination plot in this exciting thriller.
Lara's adventures are set against the backdrop of Malta's fascinating history, including the legendary Knights of St. John, in this fast-paced addition to the acclaimed Lara McClintoch series.
Praise for The Maltese Goddess:
"Armchair travelers and mystery buffs will enjoy the smooth blend of history and murder in this second installment featuring Toronto antiquities dealer, Lara McClintoch…. Interesting characters combine with an agreeably complicated plot to keep the story moving, while details about the island are skillfully interwoven.  Several twists at the end add emotional depth and leave the readers looking forward to Lara's next outing." Publishers Weekly
"After reading this exotically absorbing and culturally colorful archaeological thriller, readers will want to fly to Malta to hear the siren's song.  Lyn Hamilton is a gifted writer who has created an intricate who-done-it wrapped inside a mystical tale that cleverly links past Goddess worship to current events…. A terrific read that would make a tremendous movie." Midwest Book Review

Buy The Maltese Goddess from: