The Xibalba Murders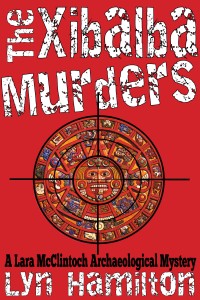 Lara McClintoch, her marriage ended and her antiques business sold, eagerly embarks on a trip to Mexico to help an old friend solve a mystery.
On arrival, her friend puts off their meeting and then disappears.
After Lara witnesses a brazen robbery of a valuable statue of the ancient Mayan civilization and stumbles on a corpse in a museum of antiquities, she becomes a police suspect.
Afraid of the police and unsure whom to trust, Lara follows clues pointing to black marketeers and zealous revolutionaries.
This dangerous trail takes her to remote archaeological ruins, lush jungles, and bustling streets filled with revelers. Lara engages in a thrilling battle of wits and courage to unmask a killer and stop a tomb-robber in the shadowy world of Xibalba, the Lords of Death.
Praise for The Xibalba Murders:
"A successful mystery and series: a smart, appealing, funny, brave and vulnerable protagonist and a complex, entertaining and rational plot." London Free Press
"….extremely well-written (hard to believe this is a first effort) with a captivating description of Merida and its food, inhabitants and customs. If you can't go to Yucatan, you can read this and feel the heat as the sun rises in the morning over the Temple of the Warriors in Chichen Itza and smell the spices and peppers in the marketplace."  Mysterious Women
"Terrific."  The Drood Review of Mystery
Buy The Xibalba Murders: